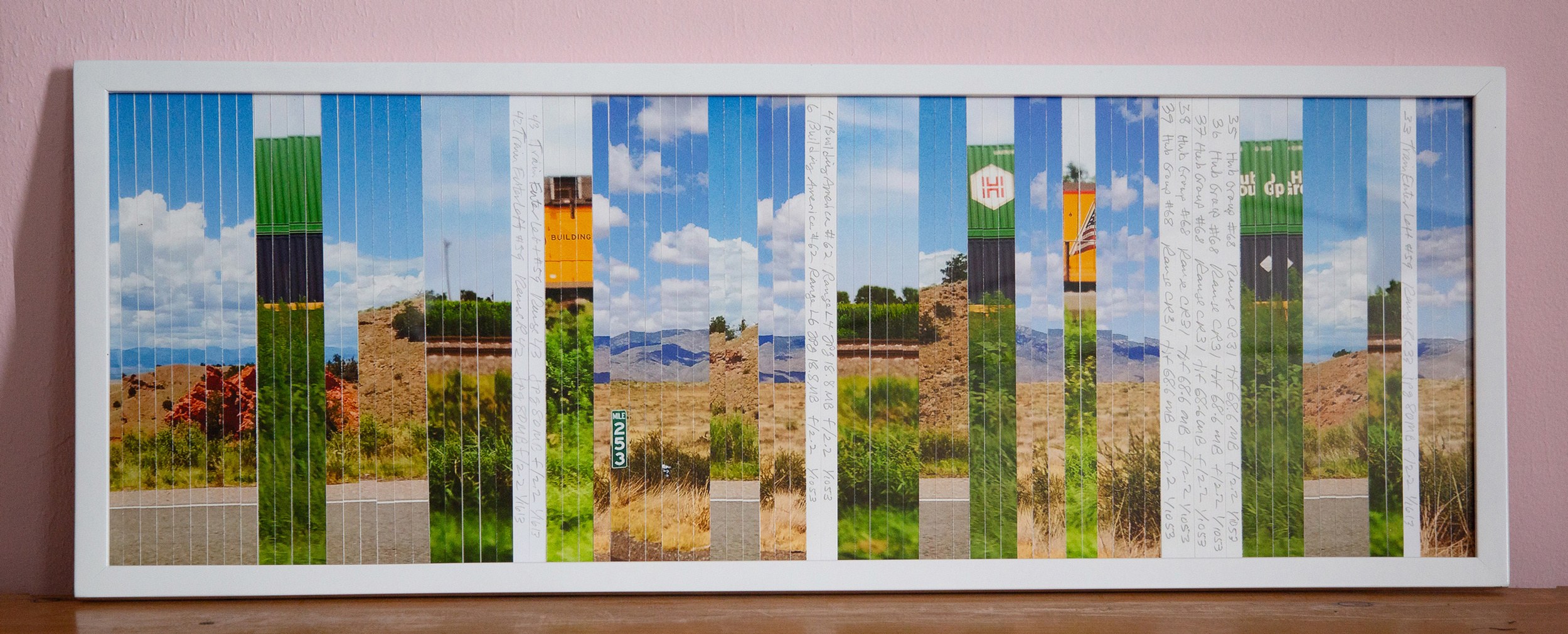 Future Ghosts is a series of constructed photographs that work to make visible the colonial logics that produce landscape. The photographs were taken during a road trip from my hometown in Minnesota to Tijuana, Baja California, an experience that made me think about the way we occupy and see landscape.
When we experience the landscape as tourists, we see with a settler logic. Landscape art can fetishize nature to fulfill our desire—for regeneration, adventure, self-actualization—and we don't see the violent transformations that produced this space, in this form, for our pleasure. As landscape studies of the borderlands, my own photography potentially participates in that logic of erasure. My artistic process operates as a way of decolonizing a settler imaginary of the borderlands to create new habits of seeing. I use the technique of photo weaving to explore the colonial mechanisms of surveying, mapping, and archiving to make them visible in my landscape compositions. My artistic practice raises the question: can we use the same forms of knowledge that make us forget violence--the map, the photograph, the archive, and the bodily experience of a place--to confront and undo it?
Through acts of cutting and classification, each photographic strip is alienated from its original place in the original photograph and displaced, registered with identifying information, and then placed in a new configuration within the composition.
My practice links settler habits of seeing with the violence of displacement and destruction of Indigenous communities, envisioning ways we might push back and undo this violence. My title Future Ghosts comes from A Glossary of Haunting, by artist C. Ree and scholar Eve Tuck: "The United States is permanently haunted by the slavery, genocide, and violence entwined in its first, present and future days. Haunting doesn't hope to change people's perceptions, nor does it hope for reconciliation. Haunting lies precisely in its refusal to stop. Alien (to settlers) and generative for (ghosts), this refusal to stop is its own form of resolving. For ghosts, the haunting is the resolving, it is not what needs to be resolved."
But we know that we are implicated in the history of violence that lies under our feet. We know, but we don't want to know. This is a knowledge that we forget, but that is never going to go away. So it lingers like a ghost.