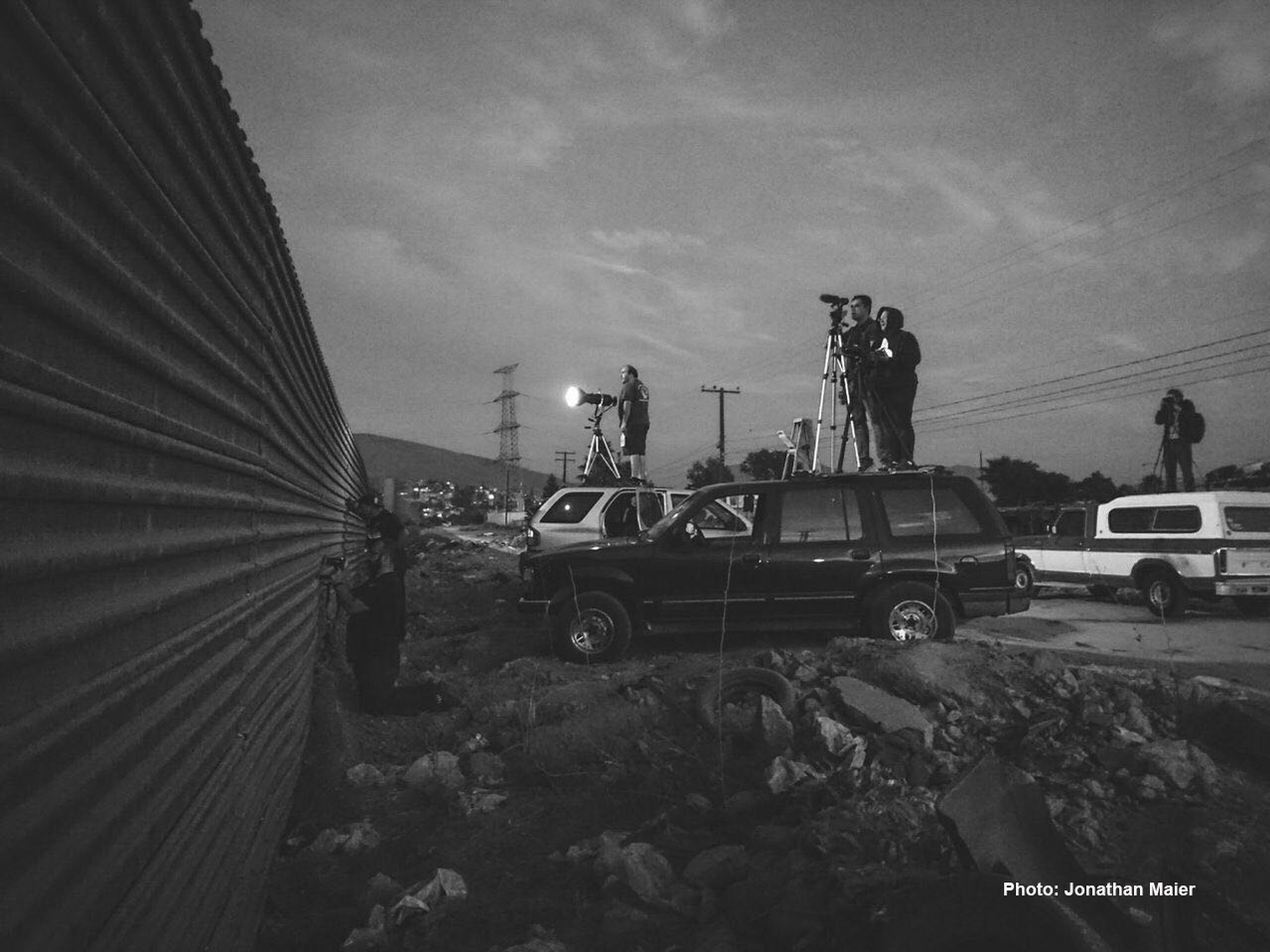 "Testing Trump's Wall: Light Graffiti Testing of the Border Wall Prototypes, November 17, 2017" was a collaborative project of Jill Marie Holslin, Andrew Sturm (UCSD Visual Arts), Overpass Light Brigade San Diego, People Over Profits San Diego, and Jorge Nieto, Video.
On Saturday, November 18, 2017 at dusk, we did a performative action to intervene in the government act of building of new walls on the border. From our position on the south side of the border fence--in the Las Torres neighborhood of Tijuana--we projected light graffiti onto the eight prototypes for President Trump's newly envisioned 30-foot high border wall, built during the month of October 2017 about 150 feet north of the old border fence in San Diego's Otay Mesa industrial zone.

The light projection action activated the space of the border to point out the apparatus of state power that the border has come to represent. From the Mexican side of the border, we used a theatre lamp to project messages and images onto Trump's famous 30-foot high concrete border wall prototypes, recently constructed just a month earlier. The action used humor to mock the government's exaggerated posture of power in the face of a manufactured crisis: the alleged danger of the US-Mexico border and to point out the absurdity of the border wall prototypes. As one of our group so eloquently put it: "It is the period of time where they are testing these prototypes, and so we felt like we would participate in the testing by seeing how well they stand up to light graffiti."
As a spectacle, and as political theatre, the prototypes are in many ways the perfect symbol of a presidency that operates through drama and distraction. Our action entered into the spectacle, using theatre to problematize and reconfigure the relations of power that the Trump administration has used to divide the populace and to brutalize and silence his critics. The messages we projected: "refugees welcome here" and "no one is illegal" are iconic as values of our nation: the rule of law, the welcoming of refugees, the values of human rights. The position from which we projected, in Mexico, reflects a genuine expulsion: the public was not allowed to express this critique in the United States at the prototype site. About 4 square miles of the prototype site has been fenced off, and the public is to this day not allowed to approach the site without permission and a border patrol guide.
Like the refugees and immigrants that the messages refer to, American values are now under threat of expulsion by a government and border security apparatus that plays on fear and xenophobia and operates under the assumption that might makes right. Other designs played with the construction of illegality and criminality that is associated with border crossing: one design showed a man climbing the wall while the message read "¡Llégale!" or "Come on in" while the double "l" and exclamation points created a visual pun on Illegal. A giant ladder and a figure of a luche libre mask playfully deflated the rhetoric of power expressed in the massive 30-foot concrete prototype border walls. And finally, the expansive international media coverage of the action opened up the space of dialogue to fifty different cities in Mexico and major media markets in the U.S.
In my work, I hope to raise questions about the positions of our bodies and our voices in the space of the border, how border protocols limit us but also produce new positions from which to speak, and how these positions illuminate the limits of democracy as it now exists on the militarized border.
Español
Testing Trump's Wall fue una proyección de graffitis virtuales que busca hacer visible la función del "Muro de Trump" como dispositivo del poder político. Con luz de una lámpara de teatro proyectando desde el lado mexicano en los prototipos del muro construidos en el lado EUA, intervenimos con imágenes alternativas en el espectáculo y teatro político del Presidente Trump, que utiliza el muro así como el drama y la distracción como maquinaria de poder.

VIDEO documentación por Jorge Nieto
En el sábado, el 18 noviembre de 2017 en la atardecer, hicimos este acto performativo como intervención en la construcción de nuevos muros fronterizos. Desde nuestra posición al sur de la línea divisoria, en la Colonia Las Torres, Tijuana, hicimos una proyección de graffiti de luz en los ocho prototipos para el nuevo muro fronterizo del Presidente Trump. Los prototipos fueron construidos durante el mes de octubre de 2017 unos 45 metros frente del vieja barda fronteriza en la zona industrial de Otay Mesa en San Diego, California. El propósito de nuestra acción fue usar humor como una forma de acción de desinflar la postura de poder exagerado del gobierno frente a una crisis fabricada: el supuesto peligro de la frontera de los EEUU-México y a subrayar lo absurdo de querer construir más muros. Comentó uno del grupo: "Es el momento en que el gobierno van a probar los prototipos, entonces nosotros queremos participar en el esfuerzo para ver como los prototipos aguantan la graffiti de luz."